FRIDAY was killer because after team A practice, a bunch of the cheerleaders were going to Ladies Night at club Le 67 
And omg seriously, most crazy night.. 

The 6 of us got ready at Sophie's then drove together, and settled into our table with some champagne, ready for the show to start.

So okay coming into this I thought it was gonna be like..guys on a stage with oiled down abs dancing and girls cheering.

No…no.no.

One at a time the hunks would come out, grab a girl from the audience and dance all over her and on her. I'm talking his head between her legs, groping her breasts, putting her hand down his man-thong…everything.
So there I am red as a beet fanning and squeaking OH MY GOD!! Is he allowed to do that!! And the cheerleaders are laughing at me like Oh Kristina welcome to France.
And then the naughty firefighter came up and threw me over his shoulder (in my mini dress..thanks) and I was put center stage in the chair

OH MY GOD!

Professional strip tease?! Luckily this guy wasn't touchey feely on me as the others were (I probably would have slapped him) And I'll admit I liked when he did push ups with his legs in my lap :) Cute lil butt. But most of the time I was freaking out and the table of cheerleaders received me back with serious laughs :)

Anyway after the show they let in the guys from outside and the party kicked up. I sank a strong cocktail and as the night went on, more and more hiphop was playing (as opposed to house) so we had to stay :) The strippers came back out to dance with everyone (with their tight tops and jeans on) and one was particularly fun, battling it out with me on the dance floor, both of us showin off. But there were a few times the girls had to rescue me from a stripper sandwich.

Overall a super fun night - if there's one thing I love in Paris its drunken dancing with my girls and ripped boys.

Not bad for a last night out on the town until August !

 
After waking up hungover from club night I spent the entire afternoon in bed streaming ugly betty and deciding where to take Colleen and Erin (in from Italy) out. Since we hit the Champs clubbing friday night, something a little more mellow seemed like a good idea. 
Plan: drinks and hookah on the popular Rue de Lappe in Bastille, 11e
A fight with Edy and drama on the german crush front with Erin left us in the mood for some serious cocktail action. Plus the energy of the people in bastille and the party atmosphere of tons of bars, clubs, and restaurants on the narrow cobblestone streets has a numbing feel-good effect. Bring it on!!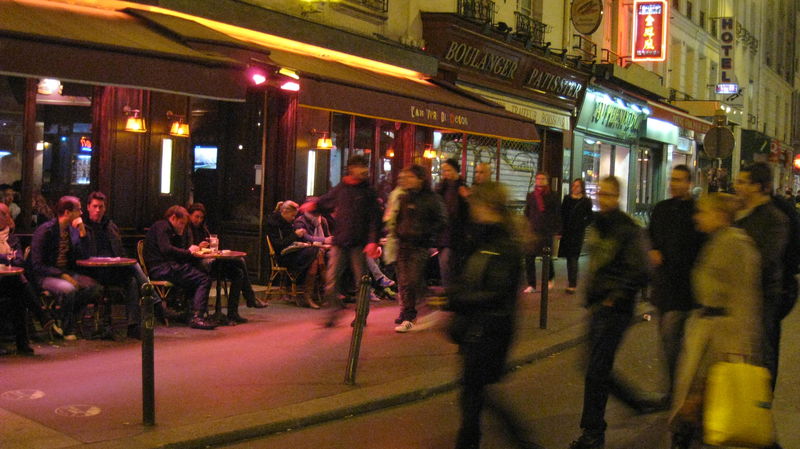 Bar One:
Dim lighting and young crowd - we posted up at the bar, to the delight of the bartender who winked at me at least three times in 5 minutes, lol. Ordered a round of cosmopolitans, then mojitos. Were about to head to the Egyptian hookah bar down the street when the bartender brought over a round of Sangria, compliments of the owner. We smiled and drank up. It was seriously the best sangria ever - thick and sweet but sort of spicey at the same time. Deliciouuusss
Bar Two:
Down the street we came to the hookah bar, a more mixed crowd of 20 somethings and older. I ordered a strong strawberry margarita and erin and colleen split sweet mint tea, which was reccommended to us by the girls next to us. It was sooo good! The drink kicked my ass, oh those Egyptians, lol, and that coupled with our apple hookah had us all feeling pretty floaty and social and relaxed in the best way. We finished our 2 coals after a couple hours - attempting to blow smoke rings and laughing too hard to get anything done - and were about to go when the guy next to us put one of his coals on our hookah so we'd have to stay :) worked for us!
Bar Three:
Loud hip hop, packed interior, red lights - totally game. We immediately got a high bar table, and ended up dancing on it.. :) Ordered a round of sex on the beaches which were pink and fruity and delicious. Soon we had a fan club of guys at our ankles, but one chisled model-lookin guy was holding it down. Wouldnt let anyone else except his friends get near us haha. And the girls in the place were glaring and talking behind hands and taking pictures…which is a good sign - meant we were doing something right ;) We didnt care though to be honest, we were having way to much fun dancing with eachother and being the only americans in the place and the only ones who know all the words to the lil wayne songs. 
Around 2am we caught a cab home - such a fun night! 5 drinks and a little hookah in the system does a girl good.
Overall, I love Bastille cuz its a total party atmosphere - great drinks and people our age or a little older - definitely a hotspot and definitely doing it again soon. 
PS. A trip to IBIZAAAAA could be in the works for May or August!!! Party capital of the WORLD with the girls! Foam parties? Beach hotel? International beauties? Oh yes.